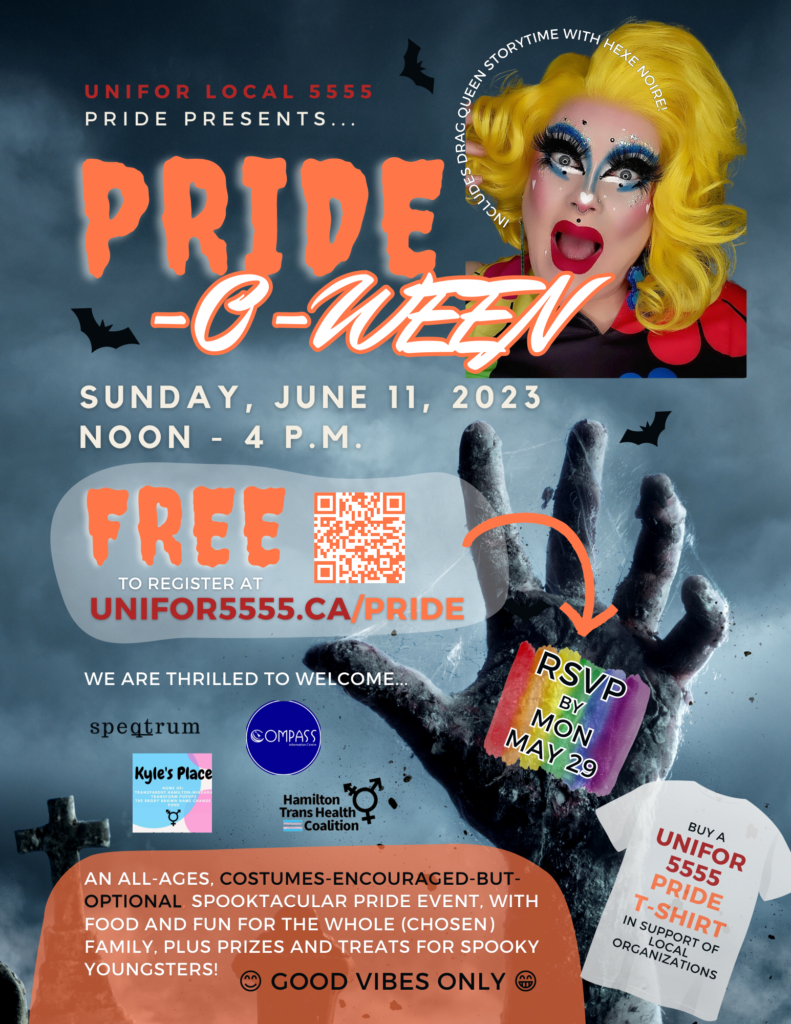 Pride month is coming. Whether you are part of the 2SLGBTQIA+ community, are lucky enough to have a Pride member in your family (chosen or otherwise), or are an ally, we invite you to join us at our Union Hall on 86 Hester Street for a spooky family-friendly Pride event!
What can you expect?
ALL are welcome! Good vibes only!
A costume-optional event. We highly encourage you to dress up and come on in for the party (and win some prizes!).
A catered event with food and snackables.
Activities for both adults and children.
A photo booth, music, button making, and free swag.
Craft station for the kids, along with the opportunity to decorate our lot with sidewalk chalk, and more bubbles than you can pop.
Your chance to grab your own UNIFOR 5555 Pride t-shirt(s). $5 each with all proceeds going to charity.
Prizes (a few for adults for best costumes) but also a prize for every child.
Drag Storytime with Hamilton celebrity, Hexe Noire!
Tables with information from Speqtrum Hamilton, COMPASS, The Hamilton Trans Health Coalition, and Kyle's Place
What do we ask?
If you're attending, please register below and let us know (approximately) how many you're bringing with you (adults, children) and include your dietary requirements.
Have questions? Please forward them along to Pride Chair: Paige Maylott (pride@unifor5555.ca)
The Pride Committee is one of our newest active committees.

Membership on the committee is open to all members of the Pride community and anyone committed to furthering productive discussion on the importance of LGBT2IA+ members in the workplace, as well as planning education, awareness, and celebratory events.

The Pride committee meets for one hour, eleven months a year with December excluded. We are currently planning our first virtual speaker event for Fall 2021.

If you are interested in joining, either as a member of the Pride community, or as an ally, please contact Paige Maylott at pride@unifor5555.ca for more information.

Pride Committee member names are confidential.