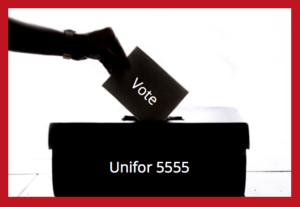 The Election Committee runs all elections in our Local. They are responsible for ensuring that nominations and voting are run in a fair and equitable manner, in keeping with the guidelines in our By-Laws and the Unifor National Constitution. They are also responsible for ensuring that candidates are eligible to serve, and follow the rules for campaigning. We are presently looking for members to serve on the elections committee. Any member who is interested should contact us at info@unifor5555.ca.
By-Election for Unit 1 and Unit 2 Representative Positions
Voting from November 6th 9:00 a.m. to November 12th 12:00 noon
For By-Election Nominations Ending October 16, 2020
Nominations for Representative Positions in Units 1, 2 and 4 now closed.
Firstly we want to thank all the members that put their name forward. 
The results of the nomination process are summarized in the email below.
All positions have been acclaimed.
Unit 1 Workplace Committee
Meghan Forbes
Jenna Ratcliffe
Unit 1 Steward
Nicole Buston
Charles De Guzman
Gary Fekete
Lisa Heathcote
Elizabeth Way
Jennifer Ward
Unit 2 Chair
Stephanie Carey
Unit 4 Chair
Soorena Baharloo
We offer our congratulations to those acclaimed. 
If you have any questions about the roles, process or elections, please email Beth Couchman, President.