Vice-President Nomination Results
With Beth Couchman moving to a new role at Unifor National, Emily Heikoop has moved into the role of President for the remainder of the term.  This leaves a vacancy in the role of Vice-President.  
The role of Vice-President is responsible for overseeing Unit 1 Job Descriptions, Local Communications, and assisting the President.  For more details on the role, please reach out the the Elections Committee (elections@unifor5555.ca).
Nominations closed May 12th and the nominees are listed below.  As the nominees submit their  bios they will be posted under their name.Voting will open on Tuesday May 16 and close May 23 at 12:00 noon.  Members will receive an email from the Simply Voting platform with details on how to vote, as well as their elector IDs and passwords.  If you do not see an email in your inbox on Tuesday morning, please first check your spam filter.  If you still can't see your voting email, please reach out to info@unifor5555.ca.
For any other questions, please reach out to the Elections Committee at: electioss@unifor5555.ca
My name is Meghan Forbes and I am currently on full-time release to the Union as the Unifor 5555 Unit
1 Vice Chairperson. I have been in this role since August 2020, representing and supporting more than
2800 members. I am also a member of the Workplace/Bargaining committee (and bargained the most
recent Unit 1 Collective Agreement – one of our most successful CBAs in years), the Labour Management
Committee, the Admin JHSC, the Political Action Committee, and the Women's committee.
In the last election, I was acclaimed as the Guide, providing Union orientation to new members, and
being a part of the local's Executive board. I was also elected to the Unifor Constitutional Convention
and Ontario Regional Council.
Prior to moving into the Unit 1 Vice Chairperson, I was a steward for more than 10 years, and have been
part of the McMaster Community for more than 20 years – as a student and employee.
I am passionate about ensuring our members have a safe, respectful, supportive, and rewarding
experience at McMaster and am here to work for you!
On a personal level, I am a single mom with two kids (who are growing way too quickly), and a passion
for gardening, home renovation, and pottery (I'm still a beginner!)
Thank you for taking the time to read about me. I wish all the candidates the best of luck in this election
for our local's new Vice President.
Dear brothers, sisters, and siblings, my name is Paige. With nearly a decade of experience
advocating for worker's rights through my Diversity, Equity, Inclusion, and Accessibility (DEIA)
work, I believe that I am the ideal candidate for Vice-President of our local. As an administrative
assistant at Mills Library for more than six years, and a factory worker background before that, I
have honed excellent communication, organization, and project management skills—key
components for this important position.
Through my active involvement in Unifor's Ontario Regional Council and National's Constitution Convention, I have deepened my understanding of our union's values. I am also proud to be a proactive member of various equity-
based committees, including the DIMAND President Advisory Group, Collaborative Futures
Accessibility Working Group, and McMaster Library's DEIA Committee. I was also recently
nominated as one of your appointed members on the Board-Senate Hearing Panel for
Discrimination, Harassment, and Sexual Violence. Since 2020, I have held a leadership position
for our local's Pride Committee, tirelessly advocating for better tomorrows, even during the
challenges of the pandemic.
With your input, and my strong advocacy skills, I believe together we can fight for a better future
for every worker. Let's shape a stronger future through our solidarity.
Vote Paige Maylott for
Vice-President!
Brothers and Sisters, Co-workers, and Friends.
My name is Joanna Rodziewicz and I have been working at McMaster University for two decades now. During this time, I
worked among you as a custodian, gardener, maintainer on residence and academic site of the campus. I have seen your
working conditions as well as experienced your everyday challenges or frustrations inside and outside of the workplace.
You all became my inspiration to present your voices to the employer as the Co-chair of Facility Service JHSC (Joint
Health and Safety Committee) and Unifor 5555 Unit 5 Chairperson.  However, there is much more that needs to be accomplished. I believe that with your support and I as your new Vice-President of Unifor Local 5555, we can transform today into a better tomorrow.
"Let's flush down the sh*t together"
In solidarity, J. R.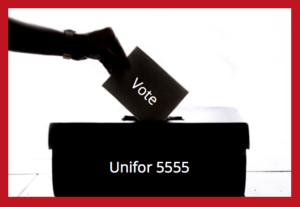 The Election Committee runs all elections in our Local. They are responsible for ensuring that nominations and voting are run in a fair and equitable manner, in keeping with the guidelines in our By-Laws and the Unifor National Constitution. They are also responsible for ensuring that candidates are eligible to serve, and follow the rules for campaigning.