The Guide is an Executive Board role. They are responsible for running New Member Orientations, checking in members to General Membership meetings and ensuring processes at meetings are following local Union Bylaws and the Unifor National Constitution.
Hello Unifor 5555 Siblings, my name is Hilary Jenkins and I am running for the position of Guide
on our Local Executive. For the past two years I've been the Elections Committee Chair, which
means that I've met and worked with many of you as you navigated the election process. I've
spent a lot of time reading and reviewing our local by-laws as well as the Unifor Constitution,
necessary work that isn't always at the top of list for many people! I'm a Research Scientist in
the McMaster NMR Facility, and I train all of our new users – from novices to experts – both in
large groups and one-on-one. I've also had the privilege to talk to several groups about
accessibility in our labs, and I'm an active member of the McMaster Accessibility Community of
Practice as well as the Employee Accessibility Network. I'm a past Chair of a non-profit board of
directors, giving me a lot of experience with meetings and protocols. Last September I attended
the Unifor Women's Conference, and it was one of the best experiences I've ever had, inspiring
me to move forward with my commitment to the local, and to all of you. I bring enthusiasm for
training, I love deep dives into documentation, and I look forward to serving the local as Guide.
I urge you to vote for me during the coming election!
Hello my Union siblings! My name is Andrew Whitney and I want to bring my energy to Union Orientation sessions in the important role of GUIDE for our Local. As a colleague, Steward, Trustee, member of the Unit 1 Bargaining/Workplace and Pride Committees, and past Conference delegate, I leverage my personal experience in Stand-Up and Improv comedy to inject fun and laughs wherever our content might be craving it. I am confident that I can do the same as Guide if given the opportunity.
VOTE ANDREW WHITNEY AS GUIDE FOR LOCAL 5555!
Ontario Regional Council meets once a year and matters related specifically to the Ontario region are discussed, debated and voted on.
Canada Council meets once a year and matters related to our National Union are discussed, debated and voted on.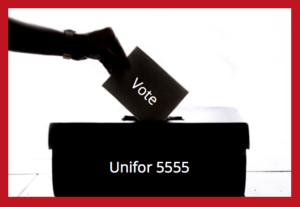 The Election Committee runs all elections in our Local. They are responsible for ensuring that nominations and voting are run in a fair and equitable manner, in keeping with the guidelines in our By-Laws and the Unifor National Constitution. They are also responsible for ensuring that candidates are eligible to serve, and follow the rules for campaigning.