On August 15th, members of our Local Executive, along with members of our Women's Committee ran another Mask Handout fundraising day.  We were raising money for the YWCA Walk a Mile in Her Shoes campaign and collecting school supplies and donations for our annual backpack drive.  Once again, we want to thank our members for the generosity they showed.  Between what was raised by our members and matched by our Women's Committee then topped up by the Local we were able to donate $1000.00 to the YWCA Walk a Mile in Her Shoes campaign.  We also collected many school supplies and some monetary donations for the backpack drive.  The Women's Committee also added a cash donation to Wesley we are thrilled to see how much we are able to give back to our community.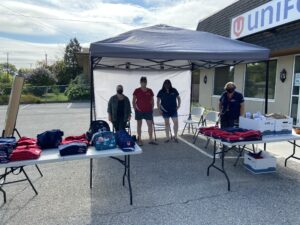 On August 12th, our Pride Committee held their first virtual meeting. It is great to see this committee up and running and we can't wait to see where they take it.  The committee is in the process of setting up their next meeting in September.  If you are interested in participating, email pride@unifor5555.ca.
Back to school this year will be unlike any we have seen before, especially for our members with school-age children.  The plans vary from school board to school board, and in some cases school to school.  For many, this will require adjustments to present remote work arrangements, and we encourage members to have any needed conversation with their supervisors now.  If you are facing challenges in sorting out what arrangements can be made for your specific circumstance, we encourage you to reach out to your Unit Chairperson.
Our Executive Board meetings have resumed virtually, and we are preparing to host our first virtual General Meeting on October 1st.  We are working through some of the challenges of hosting a meeting of this sort on-line, and we know that some things simply will not translate to an on-line platform.  Details on the General Meeting will be emailed out in the coming weeks, and at that point we will be requiring a registration to get the meeting link emailed to you.
As Labour Day fast approaches, we have had to make some decisions regarding our participation in the Annual Labour Day event in Hamilton.  This year's event will be a caravan as opposed to a march, which will end at the Star-Lite Drive in on the Hamilton mountain.  While we do appreciate the work the Hamilton District Labour Day Council has put into coming up with an alternative event, there is a lack of ability for us to gather as a local, and we have made the decision not to participate as a Local.  Any members who are interested in attending should absolutely do so, and if you would like more information on the event, please reach out to Beth Couchman, President.
Despite being lauded as 'COVID heroes', Unifor members in Newfoundland were unable to negotiate a fair agreement for workers in grocery stores across the province, and they are now out on strike.  Our National is planning solidarity actions over the Labour Day weekend.  Keep an eye out for more information in the upcoming week.
Unifor National's Education Department webinars series are kicking back up again with several webinars already scheduled through the months of September and October.  Courses for those interested in Safety, Mental Health, Women's Activism as well as those focused on Human Right and combating racism are open for registration now at www.onlineeducation.unifor.org.  These webinars are free and open to all Unifor members, though pre-registration is required.